Server Info

Current song: Loading...
Stream title:
Bit rate:
Current listeners:
Maximum listeners:
Server status:


Tune In

Click to listen


http://206.217.213.16:8430


Playlist / Requests

Check out whats playing now,
view our playlist and request songs!
Playing now - song information
Myspace
Join Blues Radio UK on myspace
and be part of our blues community!
If you love listening to Blues Radio UK
you can help us with a donation.

Welcome to Blues Radio UK
Tune in to the best blues music.
Playing a wide range of old and new blues.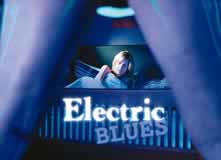 If this is your first visit to Blues Radio UK
Please sign the Guestbook..


Keep checking the gig page for blues gigs and festivals around the UK.



Check out the Blues Radio UK Blog for all the latest news and reviews.

New albums that have been added to the Blues radio Uk playlists.
Ledfoot - Damned - (Info and tour dates)
The Geoff Everett Band - Adult Show
---